Green Design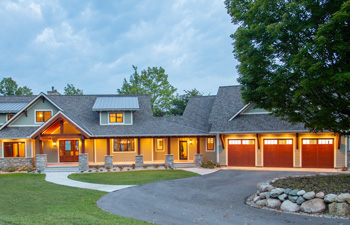 Many people think that "green building" is just about reducing energy use, but to Edgewater Design Group, it's much more.
Our approach makes homes more resource-efficient and healthier for both its owners and our planet.
For many homeowners, incorporating green elements in their custom home designs has become as important as selecting the right windows and paint colors. Our Architectural Design Team will assist you with all aspects of your home's design to assure compliance to reach your desired shade of green.
Where to start?
A Green Guide
You have little ones still crawling across the floors. Your teen has asthma. You want lower utility bills. Why we choose certain building materials is dictated in large part by life circumstances.
A sustainable, nontoxic flooring material would bring peace of mind as your baby crawls across. An advanced air filtration system throughout the house could ease your teen's asthma symptoms. A variety of insulation choices and electronic controls will reduce the utility bills that give you a headache each month.
The National Association of Home Builders (NAHB) is providing builders with the knowledge they need to build green. Model Green Building Guidelines have been issued to provide a practical, nationally recognized baseline for home building.
The NAHB guidelines, which Edgewater adheres to, focus on reducing the impact on natural features and vegetation during site preparation; choosing environmentally friendly components for sub-flooring, trusses and other conventional materials; choosing energy-efficient appliances; conserving water with low-flow plumbing fixtures; and protecting indoor air quality.
Edgewater is committed to our clients and our environment.
Does it cost more to go green?
As green building techniques become perfected and more widely used, going green today doesn't have to be costly. Often, green building means nothing more than building well and perhaps substituting one material for another. It's a choice to opt for good, quality construction.
Any additional costs that are incurred up front will be recouped many times over through reduced maintenance and operating costs during the life of your home. And there's a priceless benefit as well: Healthier living, so you can enjoy your dream home even longer.
Energy-use ratings and what they mean
Energy Star
For a complete list of Energy Star ratings and additional information, please visit www.energystar.gov.
Energy Star is a program that was first developed in 1992 by the U.S. Environmental Protection Agency as a method to identify and promote products that are energy efficient, such as home appliances. The "Energy Star" is a Department of Energy standard guaranteeing that the product exceeds the energy efficiency of current building codes by at least 15 percent.
Products carrying this symbol provide a way for consumers to save money while at the same time protect the environment. Since its onset, the government has partnered with other industry members to promote and expand the scope of the project to include not only major appliances but also new homes and buildings.
Energy Star ratings now apply to windows, doors, light fixtures and insulation types, appliances of all kinds and HVAC systems and duct work. All of these materials are available to meet Energy Star-rated standards or better.
LEED Home Certification
For a complete list of certification requirements, please visit the Green Building Certification Institute Web site, www.gbci.org.
The LEED (Leadership in Energy and Environmental Design) Green Building Rating System is an internationally recognized third-party verification system that measures how well a building or community performs across all the metrics that matter most to our environment: Overall energy savings, water efficiency, CO2 emission reduction, improved indoor environmental quality and stewardship of resources and sensitivity to their impacts.
Developed by the U.S. Green Building Council, LEED provides building owners and operators a concise framework for identifying and implementing practical and measurable green building design, construction, operations and maintenance solutions.
LEED is flexible and can be applied to all building types, commercial and residential. It works throughout the building lifecycle: design and construction, operations and maintenance, tenant fit-out and significant retrofit.
It continues to grow in its impact. Today, LEED for Neighborhood Development extends the benefits of LEED beyond the building footprint and into the neighborhood it serves.
Green strategies to consider
BUILDING SITE: The choice of site and its management during construction should be approached with the most minimal impact on ecosystems and waterways at the fore.
ENERGY AND ATMOSPHERE: Considers not only the use of energy efficient home appliances and building products like windows and doors, but encourages the use of energy monitoring systems, renewable and clean energy sources within the home and innovative strategies to bring energy use to a minimum.
INDOOR ENVIRONMENTAL QUALITY: Incorporation of strategies that improve indoor air and provide access to natural daylight, views and improved acoustics.
KITCHENS: Energy-savings appliances are commonplace today, along with nontoxic paints and finishes for floors, walls and cabinets. Natural lighting with the right windows means you don't need to be flipping the switch so often.
MATERIALS AND RESOURCES: Purposeful selection of sustainably grown, harvested, produced and transported products and materials used in building a home, as well as the ability to reclaim all waste from the construction process. This also takes into consideration of the production of waste at the source of a home product's manufacturer, for example the amount of wasted generated in producing the home's drywall, and that waste's impact on the environment.
WATER USAGE: Choose appliances and fixtures that reduce the use of potable water both inside the home and in landscaping.