Services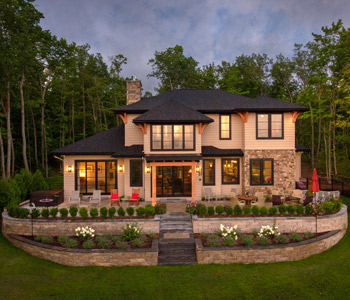 Any sized project, anywhere, any budget – with style.
The Edgewater team provides both its expertise and élan with a full range of design skills for custom homes. Focusing on the client's personal lifestyle and vision for their luxury home design, Edgewater provides the highest quality architectural services.
We've designed & built numerous magnificent homes that have been featured in magazines and publications around the country. Our engineering services are available to anyone, regardless of the project size or the home builder. As always, we remain committed 100 percent to custom home design satisfaction that is within budget — and beyond expectations.
Design Services
Timeline development
Planning and programming
Zoning process assistance
Design and documentation
Design in unlimited styles and materials (Cottage, Craftsman, Contemporary, Log, Timber, Hybrid, Stone, Stucco and more)
Creative conceptual planning and design
Code and ADA compliance
3-D visualization
Construction Administration
Engineering Services
Single-family and multi-family dwellings, light commercial and light industrial engineering
Structural engineering for heavy timber, log, light-framed wood, reinforced concrete, steel and masonry building systems
Construction Administration: monitoring and trouble-shooting of design during construction
Structural failure evaluation and solution
Engineering of structural components as well as complete structural design and documentation
Drafting Services
Support for architects, builders, engineers, interior designers, real estate agents and developers
Work supported in ArchiCAD and Sketch Up
Hand drawing to complete drawing file conversion
Production of required drawings to acquire building permits
Full working/construction drawings
As-built documentation of existing facilities
Interior design & material selection assistance